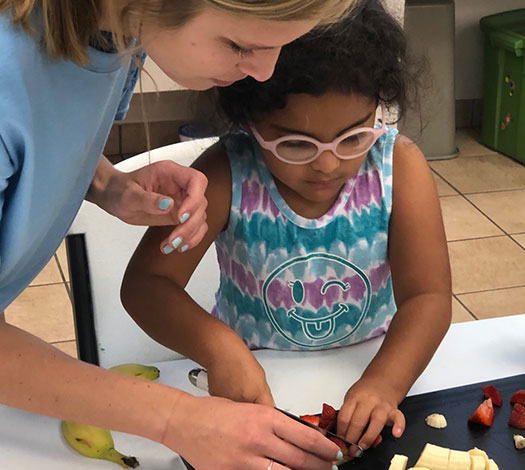 These are a selection of stories written by staff members at the Lighthouse of Collier about our Children population.
Meet Joey
Children possess a unique sense of optimism and ability to adapt to challenging situations. Joey, a 12-year-old boy with a progressive eye condition, demonstrates this optimism as he navigates life while losing his central vision. During a recent video lesson, Joey was asked to braille a sentence stating his favorite thing. His answer was, "My favorite thing is my whole life," which emphasizes the tremendous gratitude he feels for life, family, opportunity, and all that he can do.
Meet Jason
Jason is a 6-year-old boy who moved to the U.S. from Guatemala within the last few years, and is still in the process of learning English. He came to the Lighthouse earlier this year. His mother reported that he had trouble seeing things that were far away, and that he would suffer from headaches. During the initial intake, it became apparent that Jason did not know his letters.
To remedy this, a Lighthouse instructor spent substantial time with Jason each week going over the alphabet with the use of large-print flashcards, in an effort to increase his literacy and educational outcomes. Only four months later, Jason had progressed enough to be able to identify and write all his letters, and the sounds they make — and will eagerly show you if given the chance!
Meet Joey
Joey is a 12-year-old boy with a condition affecting his central vision. When he came to the Lighthouse a year ago, he had difficulty reading his assignments at school. The Lighthouse of Collier provided him with an electronic magnifier to use at school and a large CCTV (closed circuit television) to use at home to magnify print so he could do his homework. Joey is thriving academically with his new accommodations.
In addition to academic success, Joey has an ear for music. After only a few months of instruction, Joey played Besame Mucho at his recital, complete with a violinist and another pianist accompanying him. Collaboration between the Lighthouse and the piano teacher was instrumental in creating a successful learning environment for Joey.
Purchase Seeing Beyond Blindness
If you would like to own one of these cocktail table books, please donate a suggested selling price of $35.00 to Lighthouse of Collier and we will send you one straight away.
Lighthouse of Collier dedicated the book to Art Bookbinder, a man who could see beyond blindness. He was a great friend and leader. May he rest in peace. August 1942 – April 2020.