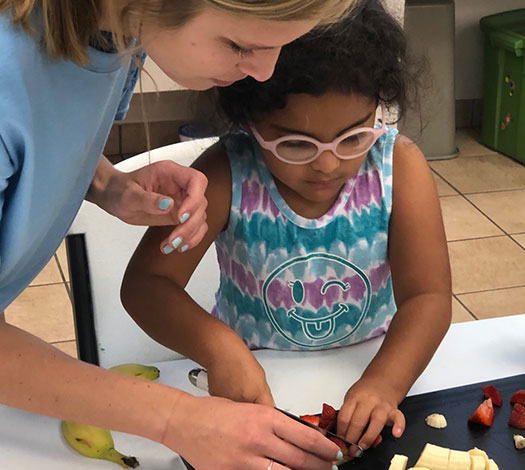 These are a selection of stories written by staff members at the Lighthouse of Collier about our Children population.
Meet Justin
This story highlights one of the 5 year old's in our Children's Program who we will refer to as "Justin". Justin has been with Lighthouse of Collier for about 4 years. In that time, he has made many gains in areas such as orientation and mobility, social skills, and sensory/cognitive development.
His current goal is learning Braille. Unfortunately, Justin does not find Braille very fun! He would struggle to sit through lessons and focus. So I had to think outside the box to keep Justin engaged and begin learning his Braille. I remembered that Justin's new favorite thing is Pokémon and decided to create a Braille Pokémon Battle game with homemade large Braille flashcards and homemade "Pokémon cards", and even brought in some Pokémon plushies to make it even more exciting! The rules made it so that Justin had to find the first letter of each attack, in Braille, in order to battle. He absolutely loved it, and began to even get excited to find the letters! He now anxiously awaits instruction each week. 
Meet John & Steven
The holiday season is a time to appreciate all of the gifts we have been given. For the past several months (and through March), Lighthouse clients have been the recipients of front row seats to the Grand Piano Series Concerts. Founders, Milana Strezeva and Raniero Tazzi  graciously invited our clients to attend concerts by world-renowned artists after hearing about Lighthouse from Board Member, Sue Bookbinder. Because of their generosity, adults, children, and their families have enjoyed breath-taking performances.
John is a 13-year-old Lighthouse student who plays the saxophone, violin, and piano. He plans on attending every Grand Piano concert and has made a point of meeting each pianist after the performance to ask questions and take pictures. The concerts provide John with an opportunity to see what is possible to achieve musically and the steps needed to succeed. He asked one artist how long it took him to play so well, to which he responded, "all my life."
Meet Tyler
Self-determination is the ability of a child to advocate for their own needs and desires and make independent choices about their personal preferences and goals in life. It is one of nine areas of the Expanded Core Curriculum that we emphasize with Lighthouse students. Tyler is a 10-year-old boy whose strength is self-determination. His vision is affected by retinopathy of prematurity and absence of a lens in both eyes, but he does not let his condition deter him.   He takes an active role in all of his sessions at the Lighthouse, always contributing ideas, opinions and suggestions for activities. Although the instructor prepares a lesson plan, it always transforms into much more based on Tyler's input. He has an incredibly inquisitive mind and is the go-to guy to assemble games and figure out how things work.  With an innate mind for detail and our strongest advocate regarding our move to a new office space, Tyler was intrigued by a tour of the new Center and offices for Lighthouse of Collier and can't wait to view the renovations. In the meantime he has scoured the blueprints in great detail and indicated his goal of becoming an architect or designer.
Many tools and accommodations have been made available to assist Tyler with his vision, including magnification, talking books, classroom recommendations, touch typing and lighting. Whether playing Monopoly, cooking or viewing blueprints, Tyler makes choices about what tools work best for him. His persistence, problem solving ability, and self-advocacy will serve him well in life. Working with Tyler is a joy and allows one to see things through his unique, inquisitive perspective; he is every bit a teacher as he is a student.
Meet James
Lighthouse of Collier started a music braille program and invited James to participate. James recently experienced the aha! moment of reading basic braille notes and playing them on a piano. He begins band camp next week and has already obtained copies of his print music to begin the process of translation to braille.
Meet Jake
The Lighthouse of Collier received a grant about 6 months ago to purchase iPads for the children to use.  This is a story about how the use of an iPad has impacted one of our children.
Jake is a six year old boy living with severe Cortical Visual Impairment.  Due to CVI, he displays trouble visually attending to objects for very long, tracking, and understanding visual information presented to him.
Meet Aaron
Aaron is a four year old boy living in Immokalee who has a progressive eye condition that has resulted in congenital cataracts in both eyes.  Upon our first meeting, it was clear that he would be a Braille reader in the future so we spent much time over the past year working on Pre-Braille skills, including tactual discrimination.  He made a lot of progress over that time.
Now he is beginning to work on the Braille alphabet which has proven to be a challenge.  We have had a hard time finding ways to make the Braille alphabet fun and engaging for Aaron so he wants to focus and work on it. 
Meet Joey and Anna
Music has powerful effects on human beings, including lifting moods, reducing anxiety, improving memory and connecting with others.  Children who are blind or visually impaired currently face barriers in accessing music as they participate in music activities such as choir or band.  Joey, a middle school student who is learning piano, saxophone and clarinet, accesses print music primarily by listening to others play and memorizing what he has heard. Anna, a college bound senior heading to Nashville, needs skills to access the curriculum as a music major.  New tools and strategies are needed to teach these students how to access music independently as well as those students who may not have explored music due to inaccessibility.
Meet Jeremy
Jeremy is an 18-year-old student with cortical vision impairment and cerebral palsy. Communication is a challenge for Jeremy, as he is nonverbal and has difficulty controlling his movements. As a result, it is important to communicate with Jeremy's family to formulate goals that are meaningful to him.  One particular goal was to increase social interaction with family, friends and teachers using a voice generating switch.
Lighthouse of Collier, Florida Division of Blind Services (DBS) and Jeremy's parents all contributed to purchasing a switch, heavy-duty mounting arm and mounting plate. Jeremy's father and brother pitched in to record approximately ten messages, ranging from hilarious movie quotes to favorite foods and music preferences. 
Meet Lauren
Lighthouse of Collier recently collaborated with ABG World to make an outreach video about the Children's Programs to use for the Collier County Public Schools Expo, and future outreach.  Instructor reached out to the family of two-year old Lauren, and her mother was ecstatic to participate and talk about the Lighthouse! Lauren's mother took Lauren to go shopping for a new outfit and Lauren picked out a "special outfit" to wear for her "superstar moment". Lauren's mother shared that Lauren was absolutely excited to see her teacher and be a "movie star". When walking through the hallway, she beamed when she saw a card with a picture of herself when she was 1 year old, from the "Meet the Kids" day.  She immediately said "it's baby me!" She got nervous at first when she arrived and saw the cameras and new faces, but quickly warmed up after hugging her instructor.
Lauren's mother said many wonderful things about the support she's received from the Lighthouse. After her mother's interview, Lauren's sister and father came in because her sister was so excited to see "Lauren's teacher". After this, the family gathered in front of the camera and sang Lauren's favorite song "The wheels on the bus"!
Meet Owen
For the past few years, Owen and his family and friends have collected donations during the holidays on behalf of Lighthouse of Collier.  Owen is 12 years old and has Stargardt's Disease, a genetic form of juvenile macular degeneration.  People with Stargardt's have central vision loss, blurred vision, and have difficulty recognizing faces, but their peripheral (side vision) is preserved.
Owen lives in Victoria Park where we all know that every home decorates for the holidays and it is a frequent stop for visitors to drive by and see the bright lights and decorations.   Owen always sets up shop on the busiest corner with his friends and family with a large Lighthouse of Collier sign.  Their purpose is to collect donations for Lighthouse of Collier.
Purchase Seeing Beyond Blindness
If you would like to own one of these cocktail table books, please donate a suggested selling price of $35.00 to Lighthouse of Collier and we will send you one straight away.
Lighthouse of Collier dedicated the book to Art Bookbinder, a man who could see beyond blindness. He was a great friend and leader. May he rest in peace. August 1942 – April 2020.