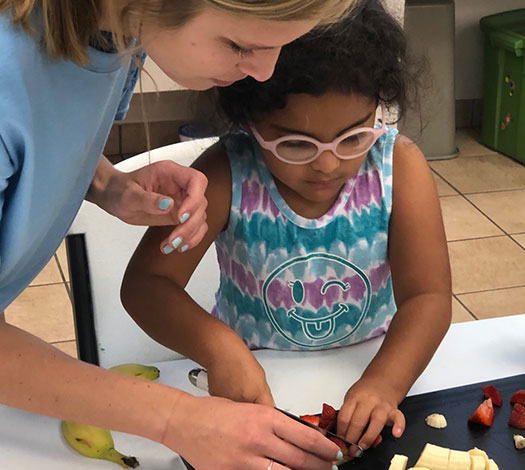 These are a selection of stories written by staff members at the Lighthouse of Collier about our Children population.
Meet Aaron
Aaron is a four year old boy living in Immokalee who has a progressive eye condition that has resulted in congenital cataracts in both eyes.  Upon our first meeting, it was clear that he would be a Braille reader in the future so we spent much time over the past year working on Pre-Braille skills, including tactual discrimination.  He made a lot of progress over that time.
Now he is beginning to work on the Braille alphabet which has proven to be a challenge.  We have had a hard time finding ways to make the Braille alphabet fun and engaging for Aaron so he wants to focus and work on it. 
Meet Joey and Anna
Music has powerful effects on human beings, including lifting moods, reducing anxiety, improving memory and connecting with others.  Children who are blind or visually impaired currently face barriers in accessing music as they participate in music activities such as choir or band.  Joey, a middle school student who is learning piano, saxophone and clarinet, accesses print music primarily by listening to others play and memorizing what he has heard. Anna, a college bound senior heading to Nashville, needs skills to access the curriculum as a music major.  New tools and strategies are needed to teach these students how to access music independently as well as those students who may not have explored music due to inaccessibility.
Meet Jeremy
Jeremy is an 18-year-old student with cortical vision impairment and cerebral palsy. Communication is a challenge for Jeremy, as he is nonverbal and has difficulty controlling his movements. As a result, it is important to communicate with Jeremy's family to formulate goals that are meaningful to him.  One particular goal was to increase social interaction with family, friends and teachers using a voice generating switch.
Lighthouse of Collier, Florida Division of Blind Services (DBS) and Jeremy's parents all contributed to purchasing a switch, heavy-duty mounting arm and mounting plate. Jeremy's father and brother pitched in to record approximately ten messages, ranging from hilarious movie quotes to favorite foods and music preferences. 
Meet Lauren
Lighthouse of Collier recently collaborated with ABG World to make an outreach video about the Children's Programs to use for the Collier County Public Schools Expo, and future outreach.  Instructor reached out to the family of two-year old Lauren, and her mother was ecstatic to participate and talk about the Lighthouse! Lauren's mother took Lauren to go shopping for a new outfit and Lauren picked out a "special outfit" to wear for her "superstar moment". Lauren's mother shared that Lauren was absolutely excited to see her teacher and be a "movie star". When walking through the hallway, she beamed when she saw a card with a picture of herself when she was 1 year old, from the "Meet the Kids" day.  She immediately said "it's baby me!" She got nervous at first when she arrived and saw the cameras and new faces, but quickly warmed up after hugging her instructor.
Lauren's mother said many wonderful things about the support she's received from the Lighthouse. After her mother's interview, Lauren's sister and father came in because her sister was so excited to see "Lauren's teacher". After this, the family gathered in front of the camera and sang Lauren's favorite song "The wheels on the bus"!
Meet Owen
For the past few years, Owen and his family and friends have collected donations during the holidays on behalf of Lighthouse of Collier.  Owen is 12 years old and has Stargardt's Disease, a genetic form of juvenile macular degeneration.  People with Stargardt's have central vision loss, blurred vision, and have difficulty recognizing faces, but their peripheral (side vision) is preserved.
Owen lives in Victoria Park where we all know that every home decorates for the holidays and it is a frequent stop for visitors to drive by and see the bright lights and decorations.   Owen always sets up shop on the busiest corner with his friends and family with a large Lighthouse of Collier sign.  Their purpose is to collect donations for Lighthouse of Collier.
Meet David
David is an 11-year-old middle school student living with Stargardt disease, a retinal degenerative condition that causes central vision loss. Without central vision, David is unable to read print or even track the mouse on the screen. Due to COVID-19, David's family decided to enroll him in virtual instruction through Collier County Public Schools. For a sighted student, this option can be challenging. For a visually impaired student, it can be overwhelming.
David is truly a joy to work with. Through hard work, determination, and most importantly the support of a very loving family, David will overcome any obstacle and become anything he chooses.
Meet Justin
Justin is a 10-year-old boy living with Down syndrome, amblyopia, and a recent diagnosis of congenital cataracts. Justin's mother reports what a difficult time the pandemic has been for Justin. Video conferences cause significant stress for him and have been triggering behavioral problems.
Justin's mother reached out to the Lighthouse because Justin had a recent eye exam and was prescribed new lenses. She explained that these new lenses enabled Justin to read independently with ease, which is something he had struggled to do for some time. These struggles were frustrating for Justin, who loves to read. She stated how these lenses would meaningfully help him this upcoming school year, especially with the new online platform, but it would be difficult to afford them.
Lighthouse of Collier and the Naples Lions Club agreed to each provide half of the amount needed to purchase the new lenses. When Justin's mother was informed of the good news, she was ecstatic. She stated that this was a "ray of light in the midst of these difficult times," and that she was beyond grateful for the generosity of the Lions Club and Lighthouse of Collier.
Meet Joey
Children possess a unique sense of optimism and ability to adapt to challenging situations. Joey, a 12-year-old boy with a progressive eye condition, demonstrates this optimism as he navigates life while losing his central vision. During a recent video lesson, Joey was asked to braille a sentence stating his favorite thing. His answer was, "My favorite thing is my whole life," which emphasizes the tremendous gratitude he feels for life, family, opportunity, and all that he can do.
Meet Jason
Jason is a 6-year-old boy who moved to the U.S. from Guatemala within the last few years, and is still in the process of learning English. He came to the Lighthouse earlier this year. His mother reported that he had trouble seeing things that were far away, and that he would suffer from headaches. During the initial intake, it became apparent that Jason did not know his letters.
To remedy this, a Lighthouse instructor spent substantial time with Jason each week going over the alphabet with the use of large-print flashcards, in an effort to increase his literacy and educational outcomes. Only four months later, Jason had progressed enough to be able to identify and write all his letters, and the sounds they make — and will eagerly show you if given the chance!
Meet Joey
Joey is a 12-year-old boy with a condition affecting his central vision. When he came to the Lighthouse a year ago, he had difficulty reading his assignments at school. The Lighthouse of Collier provided him with an electronic magnifier to use at school and a large CCTV (closed circuit television) to use at home to magnify print so he could do his homework. Joey is thriving academically with his new accommodations.
In addition to academic success, Joey has an ear for music. After only a few months of instruction, Joey played Besame Mucho at his recital, complete with a violinist and another pianist accompanying him. Collaboration between the Lighthouse and the piano teacher was instrumental in creating a successful learning environment for Joey.
Purchase Seeing Beyond Blindness
If you would like to own one of these cocktail table books, please donate a suggested selling price of $35.00 to Lighthouse of Collier and we will send you one straight away.
Lighthouse of Collier dedicated the book to Art Bookbinder, a man who could see beyond blindness. He was a great friend and leader. May he rest in peace. August 1942 – April 2020.