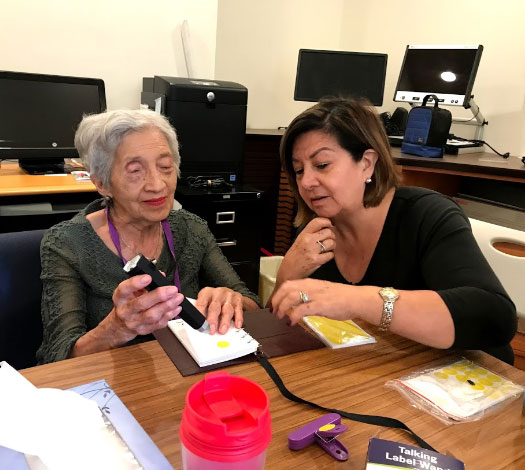 These are a selection of stories written by staff members at the Lighthouse of Collier about our Adult population.
Meet Marion
Marion is a cultured and intelligent retired art-dealer ("Colorist") and self-described "foodie" who is functionally blind from a history of issues with her vitreous fluid. She has little remaining vision, which occasionally enables her to see high contrast icons on her phone. However, Marion is unable to read print and requires the white cane for mobility outside of the home. 
Marion has been a client off/on for the past few years and has participated in the art/clay classes and ILS workshops. She also received assistance with using the CAT Bus and self-advocacy training to request shopping assistance at Publix (to purchase hard-to-find cooking ingredients for her artistic cuisine).
Meet David
David is a man in his fifties who lost all of his vision due to Retinitis Pigmentosa (RP).  David has been regularly attending individual assistive technology lessons here at the Lighthouse for the past fifteen months. He is also a regular member of the Spanish speaking adjustment to blindness support group. Through the years I have had the opportunity to work with people extremely driven to overcome their challenges and succeed in reaching their goals through sheer determination and hard work. David is without doubt one of those people. Not only is David completely blind, he has newly arrived to the United States from Venezuela and speaks little to no English. His largest barrier at this time is not his visual impairment, but his inability to communicate without an interpreter.
Meet Rhonda
Rhonda is a 67-year old client of the Lighthouse of Collier. She wanted a refresher course in Orientation and Mobility in order to qualify for her third guide dog.
The instructor went out to the client's house to provide the requested review of Orientation and Mobility skills she needed to qualify for her guide dog. Additionally, the instructor provided demonstrations in using 20/20 pens, bold line paper, a handheld CCTV, bump dots, task lighting a liquid level indicator.
Meet Wanda
Wanda is an 81-year-old client that 1st came to Lighthouse of Collier at the end of September, 2020.  She has Age-Related Macular Degeneration as well an autoimmune disorder which affects her bones, muscles, skin, and joints severely limiting her physical mobility.  She came to the Lighthouse primarily looking for help using her iPad. The iPad served as her primary piece of assistive technology as she had given up using her laptop computer.  It was her communication lifeline to her family and friends who lived far away but she could no longer read the print on the screen.
Meet Nathan
As a result of the legislative grant, Lighthouse of Collier is able to provide a robust home services program.   Through that program, services are provided to Nathan.  He is an elderly veteran man living alone and has no family to take care of him in the area.  Nathan cannot drive and did not have access to resources that would provide him rides when he initially became a client.
Nathan has learned tools, tips, techniques, and trainings to make his everyday life easier.  One of the most useful tools he has learned is how to use Collier Area Paratransit System to take him around town and to important appointments.  Nathan has become more independent because of his ability to obtain transportation.  More information on this service can be found at: https://www.colliercountyfl.gov/your-government/divisions-f-r/public-transit-neighborhood-enhancement/our-services/collier-area-paratransit-system-7568
Meet Maggie
Maggie has been a Lighthouse client for almost three years. She suffers from glaucoma and damaged corneas, causing a great deal of pain and extreme light sensitivity. She administers eye drops multiple times a day and attends frequent eye appointments. Compounding these challenges, Maggie was recently let go from her job due to COVID-19.
Despite her circumstances, Maggie always sees the glass half full and never seems defeated. She shows up with a smile and a "can do" attitude. Maggie frequently networks with other Lighthouse clients to help them cope with their vision loss. She leads by example by lending a hand to those in need.
Meet Jack
After becoming a client of the Lighthouse of Collier in 2019, and again seeking services in summer 2020, Jack received training in orientation and mobility. More recently, after the Lighthouse was able to reopen after closing due to the pandemic, he and his wife called the office and requested additional orientation and mobility assistance. His wife could no longer escort him to his medical appointments. He required more cane skills and, since Jack has mild dementia, his wife was worried about his safety.
Jack's existing skills were reviewed, and new skills were taught about approaching doors, and how to safely and effectively proceed through them with his cane and then follow the shoreline of the space to find the doctor's office. All training was done outside on the sidewalk in front of his house and on his patio, per pandemic protocol. He was also provided with bold line paper and a bold, black marker so that he could write notes for his wife. He was instructed to write in capital letters to make his notes more legible for both himself and his wife. The instruction resulted in greater confidence for Jack and less stress for his wife.
Meet Sam
Sam is a retired physician in his 70s. He was originally enrolled under the Division of Blind Services Older Blind program, and was encouraged to participate in various classes and events. After 9 months of inactivity, despite regular invitations, the Division of Blind Services advised his case be closed.
However, during the pandemic, Lighthouse case managers could recommend new clients for support under the legislative grant. Sam was proposed as a candidate, as he had requested technology training but was unwilling to make the physical trip to the office. The Lighthouse instructor contacted Sam and he was indeed interested. Sam's vision had decreased and he struggled with accessing his iPad and iPhone. Sam was pleased to be able to receive services from his home.
Meet Mary
Mary is a still-young woman who suffered strokes at an even younger age. She developed vision, speech, and mobility issues as a result. Mary does not let this deter her. Her determination makes those around her want to be and live better. Prior to the pandemic, Mary attended the recreation and leisure classes regularly at the Lighthouse, and in recent months has been participating virtually.
Over time, Mary's speech has improved significantly to where she can verbally participate in activities such as the video conference groups and classes. Mary works hard at improving her abilities and it shows.
Meet Kathy
Kathy is a young, working-age woman who went completely blind about eight years ago. She has been receiving services from the Lighthouse on and off for the past five years. The first four of those years, Kathy made minimal progress while she struggled with medical issues. However, over the past year her health has improved, making it possible for her to attend classes on a regular basis.
In that time, Kathy learned how to navigate a computer using only JAWS screen reading software and Windows keyboard commands. She is quick to grasp and retain new concepts with little assistance. In fact, she often troubleshoots a problem on her own. Kathy's newly learned computer skills make it easy for her to attend remote classes the Lighthouse offers. She regularly attends the Tuesday coffee chat, independent living workshops, Wednesday support group, and history/book club, and meets for individual technology lessons.
Purchase Seeing Beyond Blindness
If you would like to own one of these cocktail table books, please donate a suggested selling price of $35.00 to Lighthouse of Collier and we will send you one straight away.
Lighthouse of Collier dedicated the book to Art Bookbinder, a man who could see beyond blindness. He was a great friend and leader. May he rest in peace. August 1942 – April 2020.