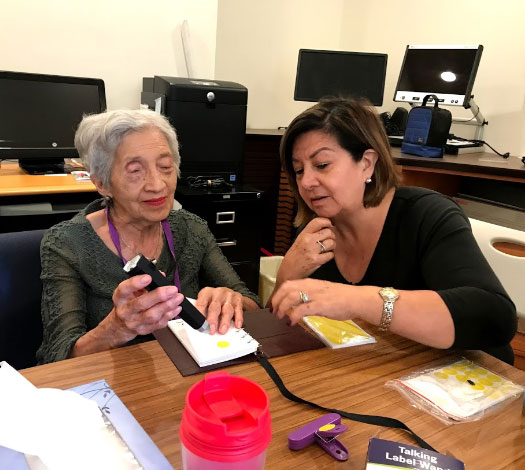 These are a selection of stories written by staff members at the Lighthouse of Collier about our Adult population.
Meet Jack
After becoming a client of the Lighthouse of Collier in 2019, and again seeking services in summer 2020, Jack received training in orientation and mobility. More recently, after the Lighthouse was able to reopen after closing due to the pandemic, he and his wife called the office and requested additional orientation and mobility assistance. His wife could no longer escort him to his medical appointments. He required more cane skills and, since Jack has mild dementia, his wife was worried about his safety.
Jack's existing skills were reviewed, and new skills were taught about approaching doors, and how to safely and effectively proceed through them with his cane and then follow the shoreline of the space to find the doctor's office. All training was done outside on the sidewalk in front of his house and on his patio, per pandemic protocol. He was also provided with bold line paper and a bold, black marker so that he could write notes for his wife. He was instructed to write in capital letters to make his notes more legible for both himself and his wife. The instruction resulted in greater confidence for Jack and less stress for his wife.
Meet Sam
Sam is a retired physician in his 70s. He was originally enrolled under the Division of Blind Services Older Blind program, and was encouraged to participate in various classes and events. After 9 months of inactivity, despite regular invitations, the Division of Blind Services advised his case be closed.
However, during the pandemic, Lighthouse case managers could recommend new clients for support under the legislative grant. Sam was proposed as a candidate, as he had requested technology training but was unwilling to make the physical trip to the office. The Lighthouse instructor contacted Sam and he was indeed interested. Sam's vision had decreased and he struggled with accessing his iPad and iPhone. Sam was pleased to be able to receive services from his home.
Meet Mary
Mary is a still-young woman who suffered strokes at an even younger age. She developed vision, speech, and mobility issues as a result. Mary does not let this deter her. Her determination makes those around her want to be and live better. Prior to the pandemic, Mary attended the recreation and leisure classes regularly at the Lighthouse, and in recent months has been participating virtually.
Over time, Mary's speech has improved significantly to where she can verbally participate in activities such as the video conference groups and classes. Mary works hard at improving her abilities and it shows.
Meet Kathy
Kathy is a young, working-age woman who went completely blind about eight years ago. She has been receiving services from the Lighthouse on and off for the past five years. The first four of those years, Kathy made minimal progress while she struggled with medical issues. However, over the past year her health has improved, making it possible for her to attend classes on a regular basis.
In that time, Kathy learned how to navigate a computer using only JAWS screen reading software and Windows keyboard commands. She is quick to grasp and retain new concepts with little assistance. In fact, she often troubleshoots a problem on her own. Kathy's newly learned computer skills make it easy for her to attend remote classes the Lighthouse offers. She regularly attends the Tuesday coffee chat, independent living workshops, Wednesday support group, and history/book club, and meets for individual technology lessons.
Meet Marilyn
Marilyn, or Lyn as she is familiarly called, has been a Collier County resident for over 30 years. She has been visually impaired for the past 16 years with macular degeneration. Lyn has been a Lighthouse client for several years and, at 92-years-old, she still tries to regularly communicate with the staff. Most Tuesdays, Lyn would visit the Lighthouse of Collier.
She has taken every class offered, participated in countless events, and has visited the office as a historian to maintain the scrapbooks. With the help of her dear friend Jasmine, a Lighthouse volunteer, she makes sure that all the activities, news, and stories of the Lighthouse are remembered. She is preserving memories by arranging photos, news, and stories, as well as journaling in an attractive layout. The books are created and organized by year.
Lyn has become the Lighthouse's cheerleader. She is a true advocate, and enjoys telling others about the services provided by the organization. She says, "I discovered an abundant amount of resources to help me with everyday living at the Lighthouse of Collier. I am so grateful that there finally was a place for people like me to get the help I needed so badly to get my life back again. Thank you, Lighthouse of Collier. You were my beacon in the night."
Meet Susan
As a new client with the Lighthouse in 2013, single, totally blind, and having just moved from Chicago to Naples, Susan required extensive orientation and mobility support. After several months of instruction, Susan learned to navigate her apartment community and nearby shopping areas. She also gained an understanding of the city layout after being provided with her own tactile/braille map of Naples.
Susan became a familiar face at the Lighthouse. She attended braille classes, pursued technology training for JAWS screen reading and voiceover, and received one-on-one lessons to learn skills such as using her Instant Pot, creating calendar appointments through her Google Home Mini, and help with tips to sort and identify her medications. Over time, Susan's technology skills were so advanced that she was one of only a few clients who had mastered the ability to play podcasts and free library movies on her iPhone.
Meet Ann
A 74-year-old woman named Ann with wet and dry macular degeneration has been coming to the Lighthouse since 2017. At first, she was wary and distant. She would come to workshops but interact minimally and, some thought, distantly. Ann came across as very unhappy.
Today Ann not only participates in the workshops but she is social and outgoing, commonly smiling and laughing with the group. She has even become active with her Lighthouse peers outside of their group sessions. The members regularly call and check up on each other. Ann is also moving forward with her learning, seeking to become more technologically skilled to stay connected with her new group of friends. She currently uses some of these new abilities to participate weekly in the virtual coffee chat.
Meet Joe
Joe is a 91-year-old man losing his vision from dry macular degeneration. For more than two years, he has been a regular participant in the Thursday afternoon support group at the Lighthouse. He reported that hearing his fellow group members talk about how much they are doing with voiceover and JAWS, a screen reading program, inspired him to learn. He went out and got himself an iPhone and an authorization to run JAWS on his laptop.
Joe's goal then became to learn enough about the iPhone to download books from the free National Library Service offered through the Library of Congress, read his email, and learn how to use independence apps for the blind and visually impaired. He also wanted to use JAWS to help him continue banking and paying his bills online.
Since he began coming to the Lighthouse for lessons, he has learned how to navigate the National Library Service website to download books and magazines, read email, and use the voice memo app on his phone to input and retrieve audio messages. He is also well on his way to independently maneuvering through his bank website on his computer using JAWS.
Joe takes learning very seriously. He works hard and learns something new during every lesson. Joe once commented, "I know I am old, but I'm not dead. I still have a few functioning brain cells that allow me to learn new ways to stay independent." He credited his group for inspiring him and giving him the courage to never give up.
Meet Ronald
Ronald is a retired middle school teacher and self-proclaimed magician. Since January 2018, Ronald has been homebound after a stroke caused left-side paralysis and vision loss. Ronald had been a social and active person, and struggled with asking for help, ultimately finding himself feeling isolated. Ronald came to the Lighthouse with the goals of learning how to order grocery delivery so as not to rely on his elderly neighbor, how to use Paratransit, and attend a weekly support group. Before COVID-19, Ronald was making progress. He used Paratransit for the first time to attend a support group, where he met three others who also had disabilities and lived alone.
Ronald learned to use basic key commands on a screen to enlarge web searches, and to review and purchase items that his cousin added to his online shopping cart. Also, Ronald learned about GoGo Grocery, a service of GoGo Grandparent, which takes phone orders and completes the delivery without having to use a computer. Ronald stills needs encouragement to use the computer, but soon this plan B will become routine.
Meet Carol
Carol is an 84-year-old woman who lives in a senior community and has felt lonely and isolated during the pandemic. When she first became a Lighthouse client, she didn't know how to use her iPhone. She always had trouble answering calls, getting voiceover to work, and came to rely on and enjoy going to the Lighthouse to practice using her phone.
Recently, Lighthouse staff called Carol to check on her and to let her know that office closures had been extended. She was surprised to hear from the Lighthouse during this time of isolation. The staff person thoughtfully asked her how she was and if she had any questions regarding when the Lighthouse would reopen so she could resume her visits. While Carol misses her in-person interactions at the Lighthouse, she clearly appreciated the phone call and the information provided. This personal touch helped a senior feel cared for and connected.
Purchase Seeing Beyond Blindness
If you would like to own one of these cocktail table books, please donate a suggested selling price of $35.00 to Lighthouse of Collier and we will send you one straight away.
Lighthouse of Collier dedicated the book to Art Bookbinder, a man who could see beyond blindness. He was a great friend and leader. May he rest in peace. August 1942 – April 2020.