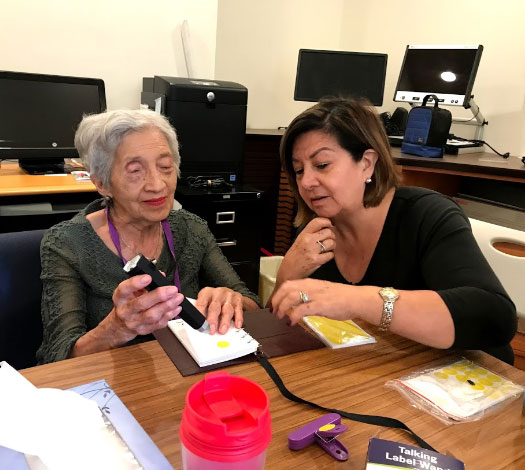 These are a selection of stories written by staff members at the Lighthouse of Collier about our Adult population.
Meet Tony
Tony is a senior gentlemen who has been coming to the Lighthouse of Collier for several years as a client.  Tony was recently our "Guest Chef" for our cooking class. 
He treated us to his fabulous Steak Pizzaiola, made right in our kitchen at the Lighthouse.
Tony shared with staff and other clients how to shop for, prepare, cook and serve this flavorful, delicious treat.  And despite the challenges of working in a new, unfamiliar kitchen while teaching -he created a scrumptious Italian meal.  Tony's dish came out perfect.  What a great way to learn about Italian cooking.
The clients also learned how to use adaptive kitchen aids and about specialized safety techniques.
And….what a great example of independence, friendship, sharing and camaraderie. 
Cheers and thank-you to Tony. 
Meet Jack
Jack is an 89 years young gentleman who I have been working with for a few months.  I have never met a more eager to learn individual when it comes to learning more about the iPhone than its basic capabilities.
Each week he comes in to my office with at least 15 questions, he records our sessions and also takes meticulous notes. Now that he has the basics down, we are currently learning how to type using voiceover so he may enter his passwords into specific apps.
He decided he wanted to add an app where he could send money to his children quickly and efficiently. We downloaded both the Zell and Venmo apps to see which one would work better. After reviewing, we decided to go with Zell so we created an account. We worked on this remotely as he was not able to come into the office. It took us an hour and a half to get the account created. Anything that could go wrong, did! He never lost his patience even when I wanted to pull my own hair out! It is a beautiful thing to work with a rare gem such as Jack!
Meet William
William is a 96 year old WWII vet who loves to tell stories of his past.  He talks about his father from Finland who fought in the Finish Civil War, and who was born in 1888!!  As an army vet himself, William served time in the Philippines and Papua New Guinea. After the war, William developed a love of healthy living and fast cars.  In fact, after moving to Naples, William's primary job was to repair and maintain a fleet of high end, one-of-a-kind and rare cars owned by a few uber-rich Naples residents.
As mentioned, William is also into health. After suffering from two heart attacks 10 years ago, he gave up all medications and switched to vitamins and distilled water. In fact, William swears that distilled water is the key to longevity.
Meet Mary
Mary is a medically fragile 24-year-old client.  She is a significantly physically impaired young lady who spent the better part of last summer in the hospital after suffering a cardiac incident. She is non-verbal and has little to no fine or gross motor control. Mary uses a ChatFusion device to communicate with her nurse caregivers and family. She accesses the device through the use of head mounted switches – one switch steps through the choices while pressing the other switch causes the device to 'speak' the selected word or phrase out loud for her.
During my first visit, Mary's mom informed me that she was not at all tech savvy and really hoped I would be able to update the ChatFusion to offer more functional choices for Mary. (It had not been updated since she was in high school!) I had never worked with this specific brand of augmentative communication unit before, so I searched online for a manual and spent many hours learning how to work the device and make changes to the settings and choice menus. I was genuinely concerned about making ANY changes since I knew this client's ability to communicate completely relied on this device. I feared if I deleted something by mistake, or broke the device completely, this would leave the client with no means to communicate… No Pressure there LOL!
Meet Karla
Many of our clients have concerns/questions regarding makeup. Can we use it? Should we attempt it? Do we really even care about looking good if we can't see? The answer to all three of these questions is an unequivocal "YES."  Lighthouse of Collier recently offered a specialized makeup class so our clients could learn unique techniques for applying makeup without sight.
Maggie Saldana, visually impaired aesthetician and our receptionist, shared a variety of tools and tips to ensure proper blending of foundation, safely applying mascara and methods for applying nail polish without making a mess – and much more! Also YouTube videos with various blind and visually impaired make-up artists were shared as another great resource for home reference.
Lighthouse of Collier client, Karla received a new make-up kit for Christmas and used it to learn tips for color and application. Karla looked gorgeous!
Meet Polly
Polly is 87-years young with the vim and vigor of a 65 year-old.   About four years ago, she was diagnosed with macular degeneration and glaucoma.  At the time, Polly was very concerned about her diagnosis and therefore enrolled in the Independent Living Classes. Polly was quick to implement the tools and techniques she had learned into her daily home life. This enabled her to continue to live independently.
Over the past three years, Polly became a permanent client "fixture" at Lighthouse of Collier. She used Uber or Paratransit to attend weekly various classes/events including: a sewing group, Out and About events, cooking and accessible art classes and several support groups.
Polly also came regularly for assistive technology lessons to learn how to access her smart phone and tablet. Today she can independently use various accessibility options, including: Select-to-Speak, Hey Google and Zoom. Additionally, Polly learned how to use Envision AI to scan/read paperwork and bar codes. Not bad for this spritely 87 year-old. Just goes to show – age is just a number!!
Meet Roger
Roger is a client in his late eighties. He became a Lighthouse of Collier client a few months ago because his eyesight was worsening.
Roger grew up with a relative who had lost his sight. He already had many excellent strategies in place to help him remain independent.
As I got to know Roger, the fact emerged that he had been a renowned cook within his circle of family and friends. His mother had insisted that all her sons learn to cook. "You could end up being bachelors." She would say to them.
Roger made his "Maine" sandwiches, stews and soups, and bread so well that friends would flock to the house whenever he was baking and cooking. One time, someone brought fresh, chocolate-dipped strawberries. The memories of eating fresh, warm bread with butter, and chocolate-dipped strawberries became legend.
Roger believed he could no longer bake and cook on his own. But he was wrong. An afternoon of bread baking using adaptive techniques and he was the master of his kitchen again.
Roger again has his mother's recipes and his own and is once again delighting his friends and family with wonderful food served by a jovial host.
Meet Terry
Over this past year, I have met many different people with all sorts of beautiful personalities. Just recently, I started working with a most amazing man named Terry. His total and sudden blindness due to a virus should have in all rights incapacitated him emotionally and physically. He has embraced his blindness so completely and has not only thrown himself into learning everything possible such as orientation and mobility, taking the ILS classes, but has begun to learn navigating his iPhone with voiceover that I sometimes forget that he is a beginner! He takes direction and works on his assignments very seriously.
When he comes into Lighthouse of Collier with his wife, they both engage others in conversation as well. He comes into our office with an upbeat attitude and his willingness to help others in their journey to adapting to blindness, but he also has a wonderful heart and our other clients seem to flock to his positivity.
I cannot help admire this client and wish I would have had him around when I lost my vision to help motivate me as I see him do others!
Meet John & Steven
The holiday season is a time to appreciate all of the gifts we have been given. For the past several months (and through March), Lighthouse clients have been the recipients of front row seats to the Grand Piano Series Concerts. Founders, Milana Strezeva and Raniero Tazzi  graciously invited our clients to attend concerts by world-renowned artists after hearing about Lighthouse from Board Member, Sue Bookbinder. Because of their generosity, adults, children, and their families have enjoyed breath-taking performances.
John is a 13-year-old Lighthouse student who plays the saxophone, violin, and piano. He plans on attending every Grand Piano concert and has made a point of meeting each pianist after the performance to ask questions and take pictures. The concerts provide John with an opportunity to see what is possible to achieve musically and the steps needed to succeed. He asked one artist how long it took him to play so well, to which he responded, "all my life."
Meet Jack
Jack is a long time client of the Lighthouse of Collier. He came to the Lighthouse looking for guidance after having had a stroke and losing most of his vision. He also lost the majority of the functioning of the left side of his body.
During the first meeting with the instructor, Jack expressed his deep grief over the trauma of losing his eyesight and functioning of the left side of his body. The first sessions were spent allowing Jack to express his feelings and talking about the phases of the psychosocial adjustment to blindness. Jack understood the process of adjustment to blindness, but he could not accept his losses.
Purchase Seeing Beyond Blindness
If you would like to own one of these cocktail table books, please donate a suggested selling price of $35.00 to Lighthouse of Collier and we will send you one straight away.
Lighthouse of Collier dedicated the book to Art Bookbinder, a man who could see beyond blindness. He was a great friend and leader. May he rest in peace. August 1942 – April 2020.