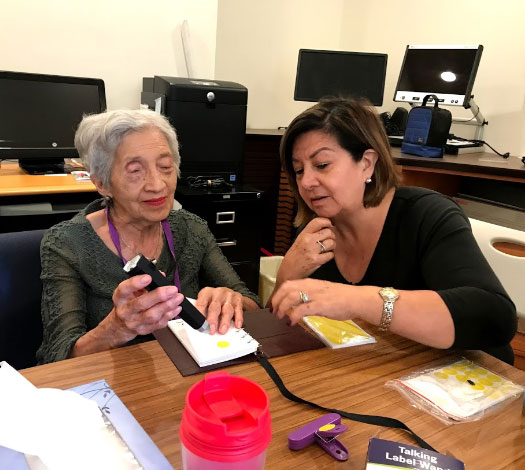 These are a selection of stories written by staff members at the Lighthouse of Collier about our Adult population.
Meet Mary
Mary lost her vision about ten years ago from a car accident and complications of diabetes. During the last ten years, Mary had to move home to her mother's and learn life from scratch. Due to many various reasons, Mary struggled the first few years and had a few setbacks.
Since I met Mary about three and a half years ago, she has completely changed. She is a strong independent woman who decided enough was enough and took charge of her life. She put a renewed sense of self into learning all she can learn not only from the Lighthouse of Collier, but from the Florida Division of Blind Services and other sources. She no longer lets her vision loss define her.
Mary has taken charge of her life and in doing so, Mary now is back in the workforce and just recently moved out of her mother's place into her own apartment with a roommate.
Meet William
I started working with William from the very first day I began as an instructor for the Lighthouse of Collier. William has been totally blind now for a few years. He participates in many different group classes provided from the Lighthouse such as: iOS class where we provide instruction on using iPhones, weekly support groups, history club and book club as well as spending time with me once per week going over his iPhone.
Meet Dan
Dan is a 78-year old client of the Lighthouse of Collier. He sought out the services of the Lighthouse because he was having trouble reading. He has hereditary cataracts in addition to glaucoma.
His vision impairment was affecting his activities of daily living. But, what upset him the most was how difficult it had become for him to read print. He is an elder in his church. His greatest passion is teaching the Bible and providing sound guidance regarding its interpretation. In order to accomplish his ministry, he spends many hours studying history and theology. He had a CCTV, and magnifiers that were supplied to him by the instructor. However, these low vision devices were not helping him to continue his studies to the extent that he needed. His eyes would become too tired.
Meet Rosa
I called Rosa today to offer a home visit – training had been on hold due to her other health and family commitments.  Rosa appreciated the offer as she was having a particularly hard day coping with her vision loss and managing her daily tasks. Rosa expressed feeling overwhelmed and frustrated. She needed to talk. After listening and empathizing with her situation, I suggested that she resume her attendance with the weekly support group- to share her frustrations with her peers. However, Rosa had already been attending on a weekly basis and excitedly rattled off accolades about several members who helped her in their own special way (their names have been changed to protect the group's privacy).
Meet Linda
Linda is an older blind client in her seventies living with Retinitis Pigmentosa (RP) and age related macular degeneration (AMD). Linda lives alone in a condo in a 55 and older community. She stated that she never realized how often she got help from others until it was no longer available.
Meet Mark
In the short time I have been working for Lighthouse Of Collier, I have had the honor of working with quite a few wonderful people. 
I have been working with Mark for a little over a month on having him get to know his iPhone by using only voiceover and not struggling to use his vision. We have been going over opening and closing apps, navigating those apps, utilizing Siri in making phone calls and sending text messages and recently, we have started downloading and using Apps such as Be My Eyes and Seeing AI. Mark is very quick at learning each item I send his way and even enjoys the little homework projects I give him! He is very excited that he can communicate with family and friends again without having to ask for help in doing all of these things. Great job Mark!
Meet Julie
Julie is a daughter of a Senior who is visually impaired and lives in Rhode Island.  Julie lives in Naples and was researching ways to make her father's phone usage more accessible. She had explained that her father has been having trouble with seeing the numbers on his phone and always misses phone calls because he can't seem to see where to press/ tap.
Julie mentioned that her father lives in Assisted living and that are unfortunately still in a lockdown. I had asked her if her father was perhaps considering moving to Naples.
Meet Thomas
Thomas is a man in his mid-fifties residing in New Jersey who worked for thirty years at an airport in the New York City area until March of last year. That is when the unthinkable happened. Thomas contracted COVID-19 and was hospitalized for two months. Thomas was able to recover from his illness and finally go home with only one apparent side effect.  The virus caused him to go completely blind.
Thomas is now trying to learn how to live his life as a person who is blind. He is ready to begin the journey of learning the tools, tips and techniques needed to regain the independence he enjoyed before losing his vision. Thomas is very eager to begin that journey. However, due to state wide shutdowns he is finding it extremely difficult to get the help he needs.
Meet Marion
Marion is a cultured and intelligent retired art-dealer ("Colorist") and self-described "foodie" who is functionally blind from a history of issues with her vitreous fluid. She has little remaining vision, which occasionally enables her to see high contrast icons on her phone. However, Marion is unable to read print and requires the white cane for mobility outside of the home. 
Marion has been a client off/on for the past few years and has participated in the art/clay classes and ILS workshops. She also received assistance with using the CAT Bus and self-advocacy training to request shopping assistance at Publix (to purchase hard-to-find cooking ingredients for her artistic cuisine).
Meet David
David is a man in his fifties who lost all of his vision due to Retinitis Pigmentosa (RP).  David has been regularly attending individual assistive technology lessons here at the Lighthouse for the past fifteen months. He is also a regular member of the Spanish speaking adjustment to blindness support group. Through the years I have had the opportunity to work with people extremely driven to overcome their challenges and succeed in reaching their goals through sheer determination and hard work. David is without doubt one of those people. Not only is David completely blind, he has newly arrived to the United States from Venezuela and speaks little to no English. His largest barrier at this time is not his visual impairment, but his inability to communicate without an interpreter.
Purchase Seeing Beyond Blindness
If you would like to own one of these cocktail table books, please donate a suggested selling price of $35.00 to Lighthouse of Collier and we will send you one straight away.
Lighthouse of Collier dedicated the book to Art Bookbinder, a man who could see beyond blindness. He was a great friend and leader. May he rest in peace. August 1942 – April 2020.