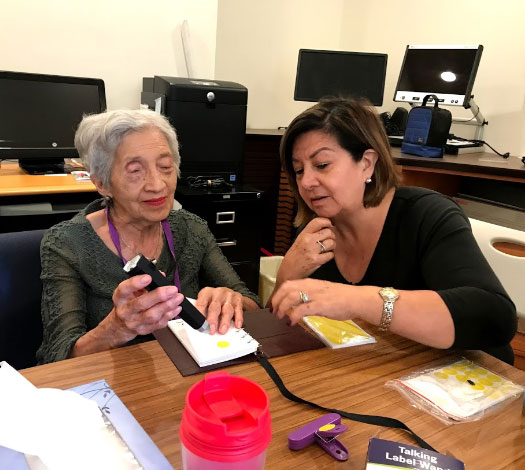 These are a selection of stories written by staff members at the Lighthouse of Collier about our Adult population.
Meet Roger
Roger is a client in his late eighties. He became a Lighthouse of Collier client a few months ago because his eyesight was worsening.
Roger grew up with a relative who had lost his sight. He already had many excellent strategies in place to help him remain independent.
As I got to know Roger, the fact emerged that he had been a renowned cook within his circle of family and friends. His mother had insisted that all her sons learn to cook. "You could end up being bachelors." She would say to them.
Roger made his "Maine" sandwiches, stews and soups, and bread so well that friends would flock to the house whenever he was baking and cooking. One time, someone brought fresh, chocolate-dipped strawberries. The memories of eating fresh, warm bread with butter, and chocolate-dipped strawberries became legend.
Roger believed he could no longer bake and cook on his own. But he was wrong. An afternoon of bread baking using adaptive techniques and he was the master of his kitchen again.
Roger again has his mother's recipes and his own and is once again delighting his friends and family with wonderful food served by a jovial host.
Meet Terry
Over this past year, I have met many different people with all sorts of beautiful personalities. Just recently, I started working with a most amazing man named Terry. His total and sudden blindness due to a virus should have in all rights incapacitated him emotionally and physically. He has embraced his blindness so completely and has not only thrown himself into learning everything possible such as orientation and mobility, taking the ILS classes, but has begun to learn navigating his iPhone with voiceover that I sometimes forget that he is a beginner! He takes direction and works on his assignments very seriously.
When he comes into Lighthouse of Collier with his wife, they both engage others in conversation as well. He comes into our office with an upbeat attitude and his willingness to help others in their journey to adapting to blindness, but he also has a wonderful heart and our other clients seem to flock to his positivity.
I cannot help admire this client and wish I would have had him around when I lost my vision to help motivate me as I see him do others!
Meet John & Steven
The holiday season is a time to appreciate all of the gifts we have been given. For the past several months (and through March), Lighthouse clients have been the recipients of front row seats to the Grand Piano Series Concerts. Founders, Milana Strezeva and Raniero Tazzi  graciously invited our clients to attend concerts by world-renowned artists after hearing about Lighthouse from Board Member, Sue Bookbinder. Because of their generosity, adults, children, and their families have enjoyed breath-taking performances.
John is a 13-year-old Lighthouse student who plays the saxophone, violin, and piano. He plans on attending every Grand Piano concert and has made a point of meeting each pianist after the performance to ask questions and take pictures. The concerts provide John with an opportunity to see what is possible to achieve musically and the steps needed to succeed. He asked one artist how long it took him to play so well, to which he responded, "all my life."
Meet Jack
Jack is a long time client of the Lighthouse of Collier. He came to the Lighthouse looking for guidance after having had a stroke and losing most of his vision. He also lost the majority of the functioning of the left side of his body.
During the first meeting with the instructor, Jack expressed his deep grief over the trauma of losing his eyesight and functioning of the left side of his body. The first sessions were spent allowing Jack to express his feelings and talking about the phases of the psychosocial adjustment to blindness. Jack understood the process of adjustment to blindness, but he could not accept his losses.
Meet Matilda
Matilda is a 75-year-old client of the Lighthouse. She was diagnosed with Glaucoma and Dry Macular Degeneration 22 years ago.
Matilda was always exceptionally independent and everyone in her apartment knew her as someone that would selflessly help others. However, her advancing vision loss made her feel that she had to confine herself to her apartment. She was very nervous about cooking for herself, she could not read her own writing, she was constantly bumping into and stumbling over obstacles indoors and outdoors. She felt that she could no longer be independent.
Her friend brought her to the Lighthouse of Collier.
Meet Tom
Let's face it, Collier County is mainly a car-dependent town. The roads are wide, traffic volume is high and for the most part neighborhoods do not connect. Collier is not a pedestrian friendly town. Therefore, crossing these wide streets can pose a challenge for the Collier County residents who cannot drive.
Now imagine trying to navigate streets as a person who is blind or visually impaired. Add to that, crossing a multi-lane intersection with high volume traffic. This is no easy task. Not all people with vision impairment are willing to take the risk.
Meet Mary
Mary lost her vision about ten years ago from a car accident and complications of diabetes. During the last ten years, Mary had to move home to her mother's and learn life from scratch. Due to many various reasons, Mary struggled the first few years and had a few setbacks.
Since I met Mary about three and a half years ago, she has completely changed. She is a strong independent woman who decided enough was enough and took charge of her life. She put a renewed sense of self into learning all she can learn not only from the Lighthouse of Collier, but from the Florida Division of Blind Services and other sources. She no longer lets her vision loss define her.
Mary has taken charge of her life and in doing so, Mary now is back in the workforce and just recently moved out of her mother's place into her own apartment with a roommate.
Meet William
I started working with William from the very first day I began as an instructor for the Lighthouse of Collier. William has been totally blind now for a few years. He participates in many different group classes provided from the Lighthouse such as: iOS class where we provide instruction on using iPhones, weekly support groups, history club and book club as well as spending time with me once per week going over his iPhone.
Meet Dan
Dan is a 78-year old client of the Lighthouse of Collier. He sought out the services of the Lighthouse because he was having trouble reading. He has hereditary cataracts in addition to glaucoma.
His vision impairment was affecting his activities of daily living. But, what upset him the most was how difficult it had become for him to read print. He is an elder in his church. His greatest passion is teaching the Bible and providing sound guidance regarding its interpretation. In order to accomplish his ministry, he spends many hours studying history and theology. He had a CCTV, and magnifiers that were supplied to him by the instructor. However, these low vision devices were not helping him to continue his studies to the extent that he needed. His eyes would become too tired.
Meet Rosa
I called Rosa today to offer a home visit – training had been on hold due to her other health and family commitments.  Rosa appreciated the offer as she was having a particularly hard day coping with her vision loss and managing her daily tasks. Rosa expressed feeling overwhelmed and frustrated. She needed to talk. After listening and empathizing with her situation, I suggested that she resume her attendance with the weekly support group- to share her frustrations with her peers. However, Rosa had already been attending on a weekly basis and excitedly rattled off accolades about several members who helped her in their own special way (their names have been changed to protect the group's privacy).
Purchase Seeing Beyond Blindness
If you would like to own one of these cocktail table books, please donate a suggested selling price of $35.00 to Lighthouse of Collier and we will send you one straight away.
Lighthouse of Collier dedicated the book to Art Bookbinder, a man who could see beyond blindness. He was a great friend and leader. May he rest in peace. August 1942 – April 2020.